Lpg / Propane Vaporizer Design, Manufacture, Supply, Installation , Exporter, Supplier, Pune, Maharashtra, India. Majorly we export products to customers from Gulf, Asian & African countries etc.
Lpg / Propane Vaporizer Manufacturer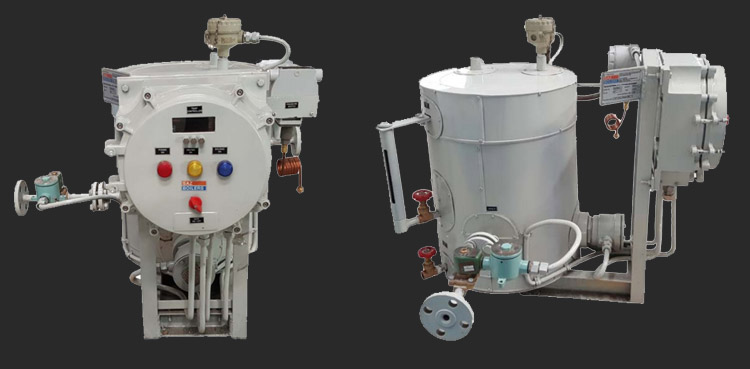 In Today's world, it more important to utilized the Energy with most efficient manner and with best technological advanced product.
LPG/Propane Is the next generation fuel. LPG/Propane "Vaporizer is being used for converting Liquid phase of LPG/Propane into Gaseous Phase.
These are electrically heated Vaporizers with water as heat transfer media.

Scope of Supply / Lpg/propane Vaporizer:
These are electrically heated Vaporizers with water as heat transfer media. The complete system is fully automatic and various interlocks and safeties are provided so that LPG vapor is produced to meet the demand and no liquid can flow downstream of the vaporizers. A fail safe device in the form of a float valve / level switch is provided to trap the liquid LPG. Vaporizers will have a SS Coil placed internally in the hot water. Bath. The LPG enters the coil and is vaporized. As described above, the interlocks between the pressure switch, solenoid valve regulate the flow of liquid LPG to meet the demand. A Flameproof Water Level Switch is immersed in the water Bath or Magnetically Operated Water level Switch is provided on the Vaporizer in Premium models. This Switch is connected to Control Panel & it ensures that the water level in the vaporizer do not go below the predetermined level. This avoids accidental dry heating by electrical heaters. Electrically Heated Hot Water Bath Vaporizer Designed with best and latest technologies which help to consume maximum heat generated. As a result, water bath heating is carried out most efficiently and power consumption is minimized.
Safeties Provided On Lpg
Solenoid valve
Flame proof Control Panel/ Vaporized
Safety relief valve/Pop Up Action Valve
Pressure switch
Water Level Indicator
Float Valve/Liquid Level Switch
Digital Temperature Controller (O)
Water Level Switch (O)
Water Drain /Overflow Protection
Exclusions
LPG System for LPG Vaporizer
Water Supply, Drain, Overflow Connection to Vaporizer
Electrical work from and up to our terminal points and interconnecting cable.
Loading, unloading and all civil work for installing the unit
Labour, tools and tackles, utilities, (water, power, air, gas, etc.) and consumables required for assembling and erecting spares for installation, operation and maintenance.
Fuel and water and instruments and accessories for performance testing.
Structural platforms, approach ladders for maintenance and operation of unit.
Spares for installation, operation and maintenance.
Any other item which is not specially mentioned in our offer.
All Civil work related to operation of equipment
Loading, Unloading of Equipment at Site Location.
SPECIFICATION:
Make
SAZ BOILERS
Type
Hot Water Bath, Electrically Heated LPG/Propane Vaporizer
Series
"LOTVAP-HWBE"
Heat Transfer Media
Water
Configuration
Flameproof (Indirect Heating)
Design Code
Storage & Mobile Pressure Vessel, Rule.1981
Working Medium
LPG
Working Pressure
14 Kgf/cm2
Design Pressure
22 Kgf/cm2
Hydro test Pressure
40 Kgf/cm2
Pneumatic Test Pressure
27.5 Kgf/cm2
Corrosion Allowance
1.0 mm
Design Temperature
-6 to 110 deg c
Water Bath Operating
Temperature
60 to 80 deg c
Efficiency
92 %to 94%
Electrical Supply
415 V, 50 Hz, 3 Phase, 4 Wire
Electrical Load
4 KW
Capacity-Kg/hr
25 Kg/hr
Material of Construction
Water Bath
Coil-
Heater
Electrical
MS (IS: 2062)
Seamless ASTMA 106 GR.B SCH.40.
SS 321 with Special Antirust Coating with FLP Enclosure
Flameproof as per IS-2148 II& I