Electric Hot Water Generators, Hot Water Generator, Manufacturer, Exporter, Supplier, Pune, Maharashtra, India Majorly we export products to customers from Gulf, Asian & African countries etc.
Hot Water Generator
Electric Hot Water Generator Manufacturer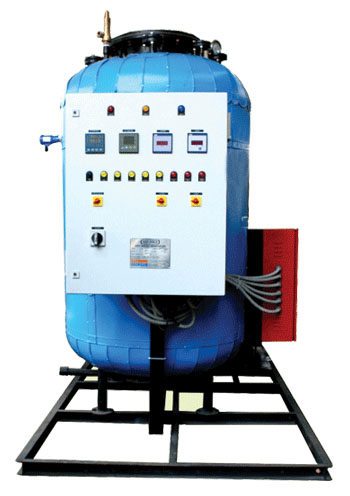 We are one of the prime Electric Hot Water Boiler Manufacturers based in India. Our Electric Hot Water Boilers provide superior performance. These Electric Boilers are automatic thus very easy to operate. Electric boilers are customized as per the requirement of the clients i.e Modulating, On-Off Type.

Product Range
Capacity - 10,000 kcal/Hr. to 4,00,000 kcal/Hr.
Fuels - Electric
Temperature - Range 950C for standerd unit and 2000C for pressuries unit
Efficiency - Overall efficiency of 98 % (-2%) on NCV

Special Features
1. Easy for installation & commissioning.
2. Fully Automatic Operation.
3. High efficiency of about 98%
4. Compact & easy to operate.
5. Perfect and smokeless combustion.
6. Minimum maintenance cost.
7. Noise less operation.
8. Single Button Start and stops with Automatic Control
9. Smokeless combustion

To Enquire about The Desired Product(s), just click Request Quote button which is Provided below.