Oil Fired Hot Water Generators, Gas Fired Hot Water Generators, Manufacturer, Exporter, Supplier, Pune, Maharashtra, India. Majorly we export products to customers from Gulf, Asian & African countries etc.
Hot Water Generator
Oil and Gas fired Hot Water Generator Manufacturer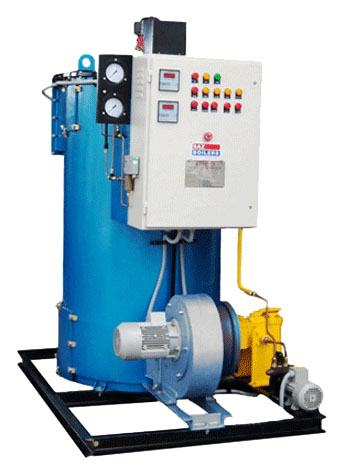 HOT STREAM is a fully automatic Hot Water Generator.
In any abnormal conditions either due to no fuel oil, low water level, high water temp., high stack temp, low pressure switch, HOTSTREAM shuts off & gives an alarm, indicating fault on control panel, so we can easily rectify the fault.

Product Range
Capacity
Coil Type - 50,000 to 50,00,000 kcal/hr.
Temperature - Range 950C for standerd unit and 2000C for pressuries unit
Fuels - LDO, HSD, FO, LSHS, Natural gas, LPG, Biogas.
Efficiency - Overall efficiency of 89 % (+/-2%) on NCV

Special Features
1. High Efficiency - Less Fuel consumption.
2. Single Button Start / Stop with Automatic Control with Safety features.
3. Noiseless operation with monobloc Burner
4. No water treatment required when used with Calorifier.
5. Smokeless combustion. Low Pollutants.
6. No explosion hazards due to coil design.

To Enquire about The Desired Product(s), just click Request Quote button which is Provided below.