Solid Fuel Fired Steam Boilers Manufacturer, Oil & Gas Fired Coil Type Steam Boilers, Oil & Gas Fired Smoke Tube Type Steam Boiler, Manufacturer, Exporter, Supplier, Pune, Maharashtra, India. Majorly we export products to customers from Gulf, Asian & African countries etc.
Steam Boilers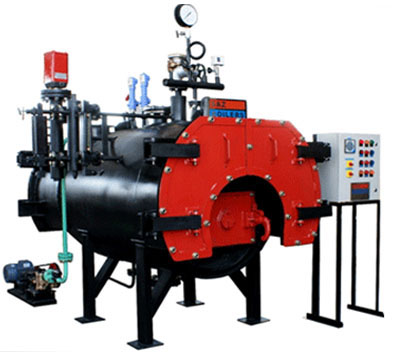 The Solid Fuel Fired Steam Boilers offered by us are available in vertical and horizontal smoke boiler. These Solid Fuel Fired Steam Boilers use wood, Coal, Agro Waste and Briquette as fuel. The boilers have adequate heating surface ensuring uniform performance.

Product Range
Capacity - 100 kg/hr to 10,000 kg/hr (10tph)
Pressure - 10.54kg/cm2 to 32 kg/cm2(g)
Fuels - Wood, Coal, Briquette, Husk, Agro Waste.
Efficiency - Overall efficiency of 80 % ( +2%)

Special Features
1. Economical in operating cost.
2. Bigger diameter of smoke tube ensures smooth passage of fuel gases and prevents choking.
3. Easy to clean and maintain.
4. Adequate heating surface for uniform heating.
5. Two fusible plugs are provided as final safety.
6. Safety valve, steam stop valve, water level gauge glass & control switches mounted on the boiler.
7. Multifuel Firing is possible without any change in Boiler.
8. Two safety valves on separate nozzles are provided.

To Enquire about The Desired Product(s), just click "Request Quote" button which is Provided below.